NFI subsidiary Alexander Dennis unveils next-generation electric buses offering more choice, more flexibility, and more value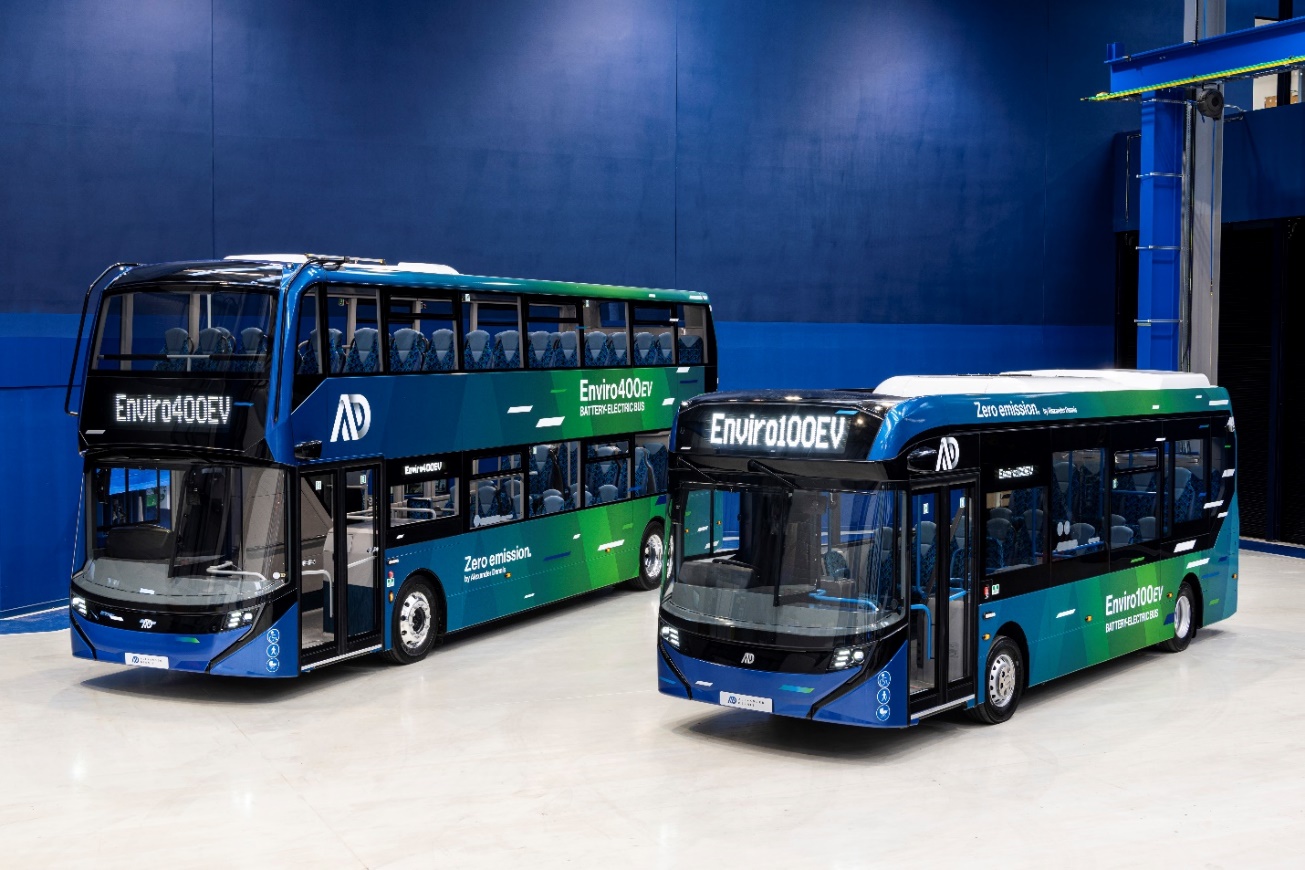 LARBERT, United Kingdom, Nov. 01, 2023 (GLOBE NEWSWIRE) -- (TSX: NFI, OTC: NFYEF, TSX: NFI.DB) NFI Group Inc. ("NFI" or the "Company"), a leading independent bus and coach manufacturer and a leader in electric mass mobility solutions, subsidiary Alexander Dennis Limited ("Alexander Dennis") today launched its next generation of battery-electric buses for the UK and Ireland with the unveiling of the new Enviro100EV small bus and the Enviro400EV double decker. These new buses, engineering in-house from the ground up, provide a step change in performance and a stunning new design platform, and are part of a wider family of next-generation zero-emission buses.
The 11.1 m (36.4 ft) Enviro400EV double decker is designed to shift crowds on busy urban and interurban routes, advancing electrification options for core services across the UK and Ireland with up to 472kWh in battery capacity and a range of up to 260 miles.
The Enviro100EV is a highly maneuverable small bus at just 8.5 m (27.9 ft) long and 2.35 m (7.7 ft) wide, while feeling like a larger vehicle; it has up to 354kWh in battery capacity and can cover up to 285 miles on a single charge.
Alexander Dennis President & Managing Director Paul Davies said: "The pace of change in our industry is rapid. We are proud of the progress we've made with electric buses over the last seven years, and our wide range of low-emission technologies before that. Now it's time for us to take our zero-emission buses to the next level. With this launch, we're giving authorities and operators more choice, more flexibility, and more value with our next generation of battery-electric buses."
For the Enviro100EV and the Enviro400EV, Alexander Dennis has integrated the new zero-emission driveline in house, with the Company's experienced engineering team working directly with leading technology partners. Product life, the passenger experience, safety, and aftermarket support are also paramount in the new design.
Key highlights include:
Voith Turbo supplies the Voith Electrical Drive System (VEDS), specifically developed for the requirements of urban and interurban buses. The Enviro100EV uses the medium-duty variant of VEDS, and the Enviro400EV uses the heavy-duty version
A future-proof battery system has been developed in partnership with Impact Clean Power Technology. NMC lithium-ion cells enables higher total energy throughput – up to 1.4GWh in the Enviro400EV
If required, customers can benefit from advances in battery capabilities without the need for vehicle modifications as pack dimensions and interfaces with the vehicle are standardized
The buses come with an industry-leading five-year warranty, while batteries have an eight-year warranty, with an extension available to 12 years based on sensible commercial basis
Optimized battery locations avoid intrusion into passenger spaces improving legroom for seated passengers and increasing overall passenger capacity by up to 19% on the Enviro400EV, with access to the upper deck via the proven 'squarecase' with no angled steps, which offers an optimum combination of practicality and safety
A redesigned geometry of the vehicle front provides drivers with better direct vision and protects vulnerable road users
Vehicles are fully supported by Alexander Dennis' AD24 aftermarket division, with spare parts stocked in the UK with 24/7 ordering, and field service engineers have been trained to support the new vehicles by the AD24 Training Academy
AD Connect, a new, bus-dedicated telematics solution, accessed through the AD24 platform or integrated into customers' existing fleet management systems, gives operators the vehicle and fleet performance data they need as well as enhanced diagnostics, parts, and repair information to further increase vehicle uptime
Production of customer orders for both bus types has now begun, with deliveries expected in the first months of 2024.

Alexander Dennis Group Engineering Director Chris Gall said: "Impact and Voith both stood out with their innovation and attention to detail when we chose the technology partners for our next generation of buses. Our engineers' work has extended beyond finding the best solutions for our customers as we have spent the time to design future-proof vehicle interfaces that also protect these critical components so that authorities and operators' investment will stand the test of time."
Alexander Dennis will work with authorities and operators to model their operational requirements through an industry-standard multi-physics simulation, estimating the useful life of their batteries on the intended routes and producing running boards covering daily temperature and battery state of health. Route modelling in combination with finance options, power supply, maintenance costs and available grant funding, allows Alexander Dennis to offer its customers a 20-year total cost of ownership calculation and recommend funding partners – including those ready to underwrite a full 20-year term – and infrastructure providers, or by working with customers' existing partners.
The Enviro400EV will be assembled in Larbert, where Alexander Dennis has transformed its facility and overhauled its build process by introducing digital support tools and reducing the number of build stages to improve material, process, and quality control.
The production of the Enviro100EV takes advantage of Alexander Dennis's global operations footprint. Chassis and body frames will be produced under direct engineering supervision at the manufacturing partner in Zhuhai, were almost 4,200 Alexander Dennis buses, have been assembled over the last 15 years, before having its high-value components including axles, driveline, batteries, doors, seats, and destinations fitted at Alexander Dennis' Scarborough facility.
The Enviro400EV and Enviro100EV for the UK and Ireland are part of the wider family of Alexander Dennis next-generation zero-emission buses that also includes the three-axle Enviro500EV double decker for international markets, launched earlier this year in Hong Kong.
An international version of the Enviro100EV is under development, as is the autonomous Enviro100AEV and an open-top variant of the double deck Enviro400EV.
The next generation of Alexander Dennis battery-electric buses for the UK and Ireland will be completed in 2025 with a new Enviro200EV single decker that will also be fully engineered and built in-house.
In addition to its next-generation buses, Alexander Dennis will continue to sell and support electric buses built in partnership with BYD. Over 1,500 of these BYD–Alexander Dennis Enviro200EV and Enviro400EV are currently in service across the UK and Ireland.
High resolution images are available for download from the Alexander Dennis website at alexander-dennis.com/media/news.
About NFI
Leveraging 450 years of combined experience, NFI is leading the electrification of mass mobility around the world. With zero-emission buses and coaches, infrastructure, and technology, NFI meets today's urban demands for scalable smart mobility solutions. Together, NFI is enabling more livable cities through connected, clean, and sustainable transportation.
With 7,700 team members in ten countries, NFI is a leading global bus manufacturer of mass mobility solutions under the brands New Flyer® (heavy-duty transit buses), MCI® (motor coaches), Alexander Dennis Limited (single- and double-deck buses), Plaxton (motor coaches), ARBOC® (low-floor cutaway and medium-duty buses), and NFI Parts™. NFI currently offers the widest range of sustainable drive systems available, including zero-emission electric (trolley, battery, and fuel cell), natural gas, electric hybrid, and clean diesel. In total, NFI supports its installed base of over 100,000 buses and coaches around the world. NFI's common shares trade on the Toronto Stock Exchange ("TSX") under the symbol NFI and its convertible unsecured debentures trade on the TSX under the symbol NFI.DB. News and information is available at www.nfigroup.com, www.newflyer.com, www.mcicoach.com, www.nfi.parts, www.alexander-dennis.com, www.arbocsv.com, and www.carfaircomposites.com.
About Alexander Dennis
Alexander Dennis is a global leader in the design and manufacture of double deck buses and is also the UK's largest bus and coach manufacturer. Alexander Dennis offers single and double deck vehicles under the brands of Alexander Dennis and Plaxton, and has over 31,000 vehicles in service in the UK, Ireland, Europe, Hong Kong, Singapore, New Zealand, Mexico, Canada, and the United States. Further information is available at www.alexander-dennis.com.
Forward-Looking Statement
This press release may contain forward-looking statements relating to expected future events of Alexander Dennis and NFI Group, including new products, business prospects and opportunities, the existence and future of a market for Alexander Dennis' new Enviro100EV and Enviro400EV (the "New Products"), range and efficiency benefits of the New Products and manufacturing efficiencies related thereto, that involve risks and uncertainties. Although the forward-looking statements contained in this press release are based upon what management believes to be reasonable assumptions and speak only as of the date of this press release, investors cannot be assured that actual results will be consistent with these forward-looking statements, and the differences may be material. Actual results may differ materially from management expectations as projected in such forward-looking statements for a variety of reasons, including market and general economic conditions; there may not be sufficient customer demand for the New Products, or at all, to sustain continued manufacturing of such products; Alexander Dennis' ability to successfully generate the expected production efficiencies in building the New Products may not be as great as anticipated or may not be realized at all; the expected economic, cost and efficiency improvements and benefits to customers in operating and expected increased range generated by the New Products described in this release may not be as great as those anticipated or may not be realized at all; the expectation of having designed a "future proof" battery system may not be realized; Impact is a new supplier to Alexander Dennis of key components used in the New Products and Alexander Dennis has no prior supply experience with this supplier; the ability of Voith and Impact to provide components that meet Alexander Dennis' and its customers' specifications and within agreed delivery schedules; there is yet no operational experience with the New Products or components to be supplied by Voith and Impact; the risks related to the dependence on limited sources or unique sources of supply as described in NFI's materials filed with the Canadian securities regulatory authorities and available on SEDAR at www.sedarplus.ca ("Public Disclosure Documents"); and the other risks and uncertainties discussed in the Public Disclosure Documents.
Due to the potential impact of these factors Alexander Dennis and NFI disclaim any intention or obligation to update or revise any forward-looking statements, whether as a result of new information, future events or otherwise, unless required by applicable law.
For media inquiries, please contact:
Debbie McCreath, +44 1324 574479
Stefan Baguette, +44 1324 678047
[email protected]
For inquiries, please contact:
Stephen King
P: 204.792.1300
[email protected]
A photo accompanying this announcement is available at https://www.globenewswire.com/NewsRoom/AttachmentNg/dc04f241-b54d-41a4-9bb0-beb47afdc7f0